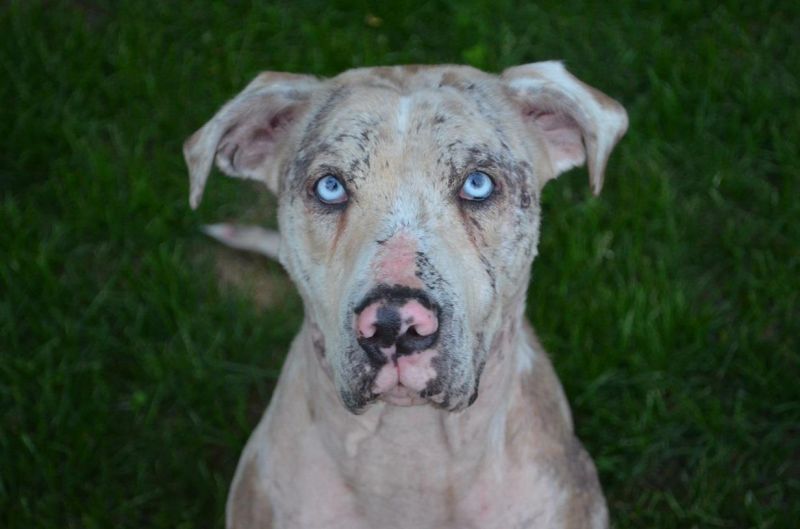 "Diamonds are quite ordinary at first glance – their true beauty as jewels is only realized through the cutting and polishing process."
Diamond truly is the epitome of a diamond in the ruff. If you can look past her physical flaws (most of which are only temporary), you'll see a beautiful, fun, happy girl who just wants to get and give lots of love.
When Diamond first came to Catahoula Rescue Ontario, her skin was pink and raw. She had been suffering from a very treatable and non-contagious skin condition called Demodex for who knows how long. She's been taking medication and having medicated baths for the last four months, and her skin condition has improved tremendously.
Diamond is most likely a purebred Cathoula. She's somewhere between 1-2 years old, so she's pretty much done growing. She weighs around 60 pounds, and is the biggest wiggle butt! When you call her, she comes to you with her tail wagging back and forth and her mouth all wrinkled up in the cutest smile :-)
Diamond is house trained and knows basic commands like Sit and Paw. Her on-leash walking needs some work, but she's coming along nicely – except for when she sees a bunny. Then she pulllllllllllsssss really hard to get to it! She happily goes into her crate beside the bed to sleep at night, but she isn't a big fan of being left alone in her crate when her peeps go out. She would probably do best in a home where someone is around the majority of the time. She doesn't bark a lot, but she lets you know her displeasure about being left alone with funny moaning and groaning sounds.
It took Diamond a couple of days to settle into her foster home and have calm meetings with the other dogs in the house. Once those formalities were out of the way, Diamond fit right in, and she gets along great with her doggie brothers and sister. She's happy to share toys and hasn't shown any signs of having possession issues. And she LOVES to play!
Diamond would do best either in a home with another dog her size, or as an only dog as long as she gets enough daily exercise. She might be too much for small kids/babies, she is friendly and should be fine with kids about 10 and up.
With continued care and treatments from her adoptive family until her fur has all grown back in, we know our Diamond in the ruff is going to blossom into an even more beautiful girl!
Diamond is spayed, up to date on her vaccines, heartworm tested (negative), and microchipped.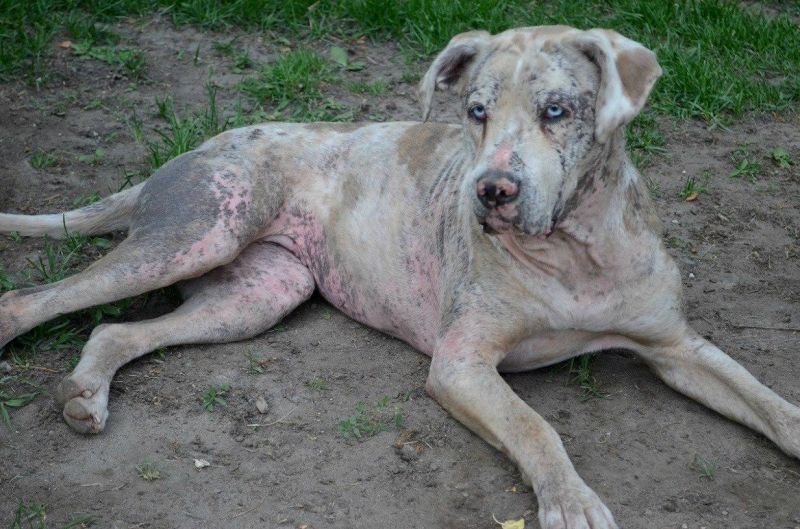 To apply to adopt Diamond, please complete the adoption application form. For more information on Diamond or any of our other dogs available for adoption, please contact catahoulaontario@gmail.com
To view all of our available dogs, click here