* Special needs – allergies *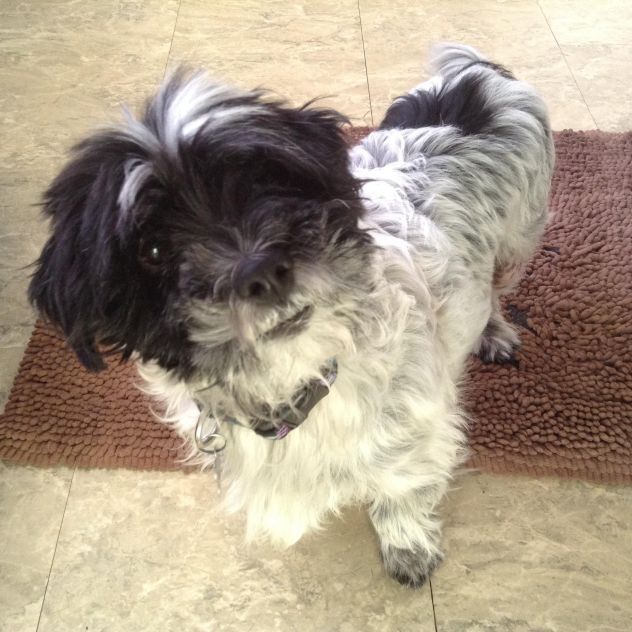 Banjo is a 3-4 year old Shih Tzu/Schnauzer mix. He weighs 14 lbs. Banjo comes to us from a shelter in need of some special care due to skin issues and allergies. A few months ago, Banjo was almost completely bald due to his allergies, most likely caused by an improper diet. His fur has all grown back now, with just a couple of patches on his back legs, feet, and tail to go. His skin is a little dry and he is receiving all-natural supplements to help with this. Banjo needs to strictly eat a prescription non-allergic food to keep his coat and skin under control. No extra treats for this cutie, but he does not mind at all. The food that he must eat is purchased only through a veterinarian - Hill's z/d Canine Ultra Allergen-Free. It does cost a little more than a high quality pet food found in a pet food store, however there won't be the added expense of treats and bones which would probably even things out.
Through all of this, Banjo is a very well-adjusted dog. He is a happy go lucky little dude that loves to run and play. He listens when told no. We are working on the sit command and he almost has it. He is pretty quiet and very well behaved in the home. He is crate trained and is content to sleep quietly in it all night long. He can be left free roaming or confined while you are out. Banjo is a bit of an alarm barker and will alert you to visitors at your door or welcome you back from work with a lovely song. He's so excited to tell you all about his day that he just cannot contain himself. He seems to prefer women to men and will bark at a man when he first meets him. All he does is bark, once he gets to know the man, he's his best friend and playmate.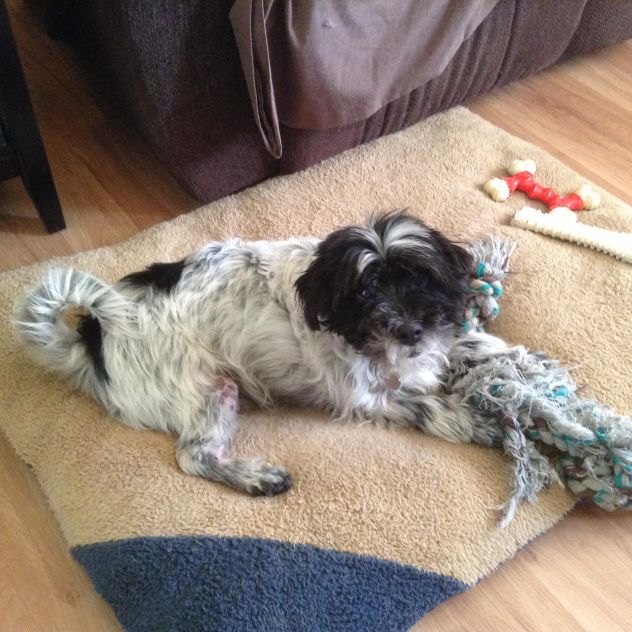 Banjo is housebroken and lets you know when it's time to go outside by dancing around a bit in front of you. He is content to lie on a dog bed on the floor and play and chew on his toys as well as come up for some cuddle time if invited. When you are in the kitchen preparing a meal, Banjo will be right there to supervise. He does not beg for food, he just wants to be near and usually falls asleep on the floor while waiting for you to finish.
Banjo is currently living with 3 other dogs and 5 cats in his foster home. He gets along well with the dogs, eats right alongside them, shares toys, and runs & plays chase with them in the yard. He really couldn't be bothered with the cats and doesn't pay them much attention at all.
Banjo is a moderate energy little dog that does require his coat to be brushed on a frequent basis. If his coat turns out to be more like the Shih Tzu side of him once it fully returns to normal, Banjo will require daily brushing and trips to the groomers to keep him looking absolutely fabulous.
Banjo has not undergone formal allergy testing. However, he has been doing well on the non-allergic prescription diet since he has been in rescue and this would need to continue through to this forever home.
Banjo is neutered, vaccinated, heartworm tested (negative), and microchipped.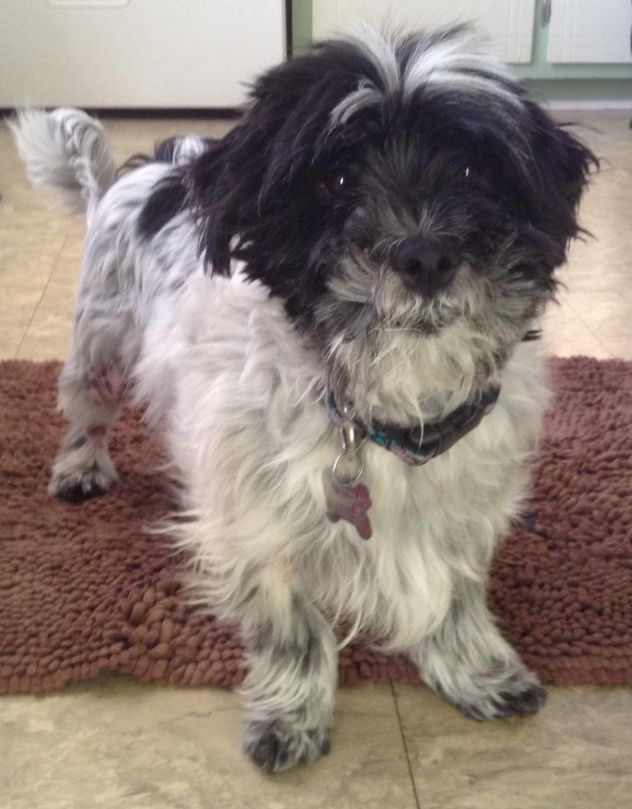 To view all of our available dogs, click here