Hi there, I'm Charlie.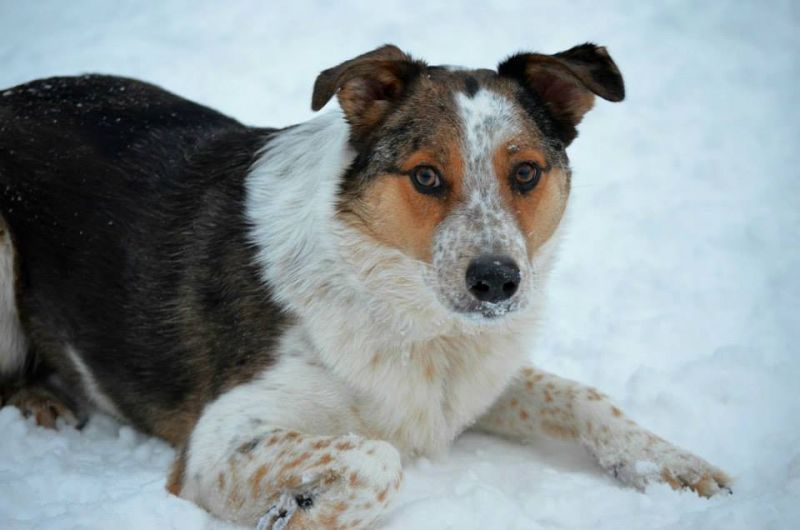 My foster mom calls me Chubby Nubby because, well, let's face it, I'm a little bit plump. And I just have a little nub of a tail – I got that from my Aussie Shepherd side. I might also have Australian Cattle Dog in me, and some people think I look a bit like a Collie. I'm around 1.5 years old and medium-sized at around 50 pounds (give or take a few!)
I'm house trained and have pretty good manners. I know lots of commands – sit, down, shake paw. I'm pretty good at fetch too, but sometimes I stop on the way back to chew the ball. Speaking of on the way back, my recall is super-good if I do say so myself. Whenever we're at the dog park, I always come when my foster mom or dad calls me. I love the park because I get to run loose and play and meet other dogs.
I'm living with two doggie brothers and one doggie sister in my foster home. We get along really well. One of my brothers is my age, and we play together a lot. It's fun to chase each other around the backyard and wrestle. He's taller than me, but I can run just as fast as him – maybe even faster! I'm pretty sure these extra pounds I have will melt right off with my new exercise regime. And then watch out, I'll be the fastest dog out there! Maybe you'd even like to do flyball or agility with me so I can show off just how smart and fast I am!
I don't like when my foster family leaves the house without me (I should be part of all the fun right??!) so I whine and whimper for a little while, but then I settle down and catch some zzs's.
I really like to be near my foster peeps. I love to move in real close and snuggle with them when we're hanging out on the sofa. I guess you could call me Chubby Snuggly Nubby! I'll lie down on the kitchen floor while they're making supper and follow them around the house to watch what they're up to. I don't want to get in the way, I just want to be close to them. Makes me feel more safe and secure knowing my peeps are close by.
So that's a little bit about me – now I want to find out about you! If you want a smart, cute, cuddly boy like me in your life, get in touch with CRO and let's see if we're a good match.
Ciao for now!
Charlie
Charlie is neutered, up to date on vaccinations, heartworm tested (negative), and is microchipped.
To apply to adopt Charlie, please complete the adoption application form. For more information on Charlie or any of our other dogs available for adoption, please contact catahoulaontario@gmail.com
To view all of our available dogs, click here