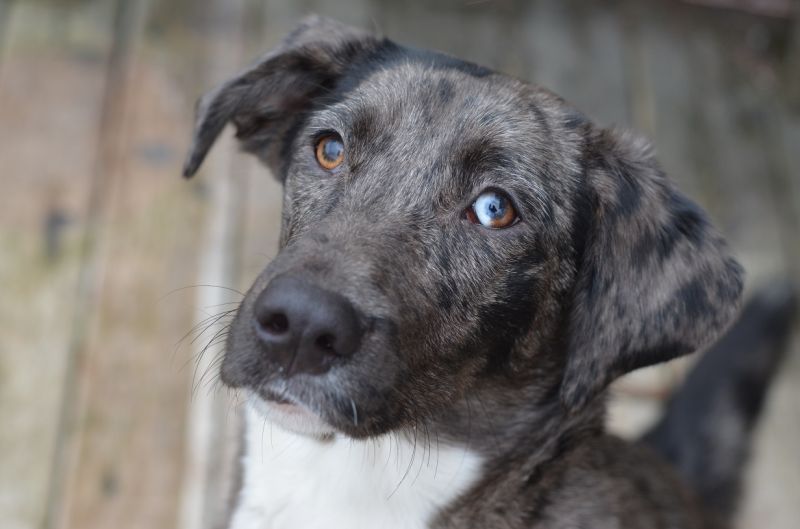 Hi there! I'm Sparkles, a 10 to 12 month old blue merle Catahoula mix. My foster Mum doesn't know what I am mixed with, except she says I am definitely mixed with cuteness! She also says I have pretty eyes, as I have one that is half blue and half brown. I don't like to talk about my weight but they say I am around 40-45 pounds.
I have lots of energy and I'm really playful and I can jump REALLY high and far! I'd love to do something like flyball or agility so I can show off just how great a jumper I am :-) Plus it would be a great way for me to put my energy to good use! I know Sit and I'm learning how to walk nice on leash. There are so many smells and sounds that catch my attention and need exploring, but I'm catching on to the idea of how to walk properly.
There is nothing more that I like to do than run and play. I like playing with all dogs, big and small. I have even lived with two Chihuahuas and a Great Dane. But my Mum says I can't live in a home with cats – not sure why she says that, because I love chasing them soooo much!
I'm a pretty great cuddler, and I'll just stand or sit right there and let you pat me and hug me for as long as you want. I love to give Catahoula hugs back – I'd love to give you one too!
Love,
Sparkles is spayed, up to date on vaccinations, heartworm tested (negative), and will be microchipped prior to adoption.
To apply to adopt Sparkles, please complete the adoption application form. For more information on Sparkles or any of our other dogs available for adoption, please contact catahoulaontario@gmail.com
To view all of our available dogs, click here